I'd like to introduce you to the newest Speckled Sponsor, Sugar Foots Shop

.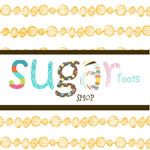 Sugar Foots Shop was founded by Kristen Cast in 2009. The shop specializes in sewn and hand knit items for children. Kristen describes her shop as, "A collection of unique and modern designs and gifts by artist and mom, Kristin Cast. Hand made from my home to yours.
Giving you smiles one stitch at a time..."
More about Kristen and Sugar Foots Shop.
Being a Mom of 6 year old twin boys and a 3 year old little girl gives me the ability and joy to experience the simple faith of a child through their eyes. I get the privilege of all of those amazing feelings you get from the great mysteries and magic we all remember from our childhood: the Tooth Fairy, your favorite stuffed animal that protected you as you slept from the monsters under our bed and in our closets, the wonder of Santa Claus, or just the joy from getting a new toy. My kids are what inspired me to create The Sugar Foots Shop. I have a growing collection of hand knits and many other gifts designed and created by myself. I hope they will bring smiles to you and your kiddos for years to come!
Now on to the giveaway deets. The giveaway will be for one of these little fellas:
To enter (make sure you leave ONE comment for each entry)
Be or become a Speckled Dog follower and a follower of the Sugar Foots Shop blog. This is worth one entry and is required to be eligible for the giveaway.
Visit the Sugar Foots Etsy shop and come back here to let us know what your favorite item is. This is worth three additional entries.
Blog, tweet or Facebook about this giveaway for five additional entries.
That's nine chances to win one of these cuties!

Giveaway ends 10/8. Winner will be announced 10/9.
GIVEAWAY HAS CLOSED